24 March 2018 – TechSavvy gets Techy with it!
After the inaugural 2016 year with a panel of tech professionals ranging from CEOs to Presidents to Engineers and System Developers, 2018 brought in video conferencing for the 2018 panel.  The moderator, Michelle Mikka-Van Der Stuyf, President & CEO of BizStrat Technology sparked the idea as she was travelling for business and would be in Las Vegas during this years TechSavvy conference.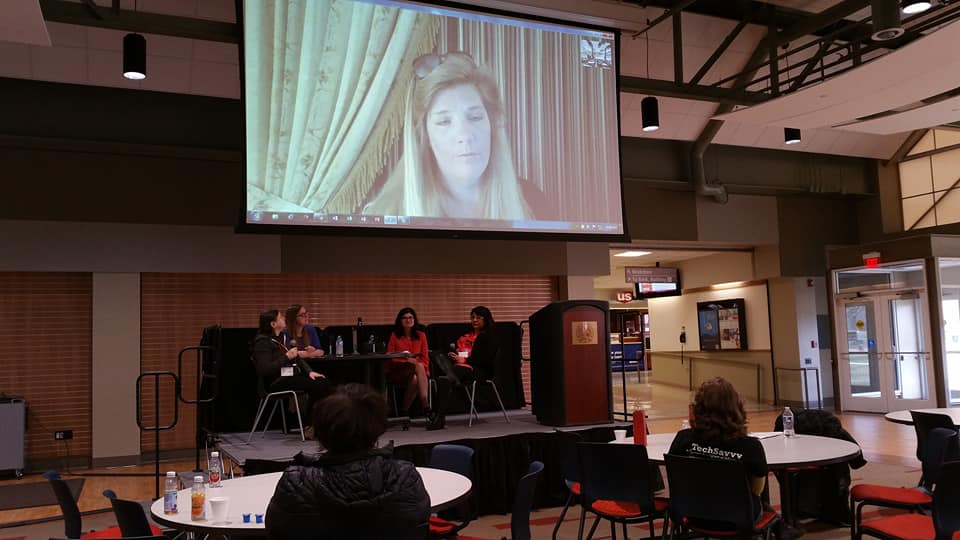 Technology has evolved from beacons to smart phones to GPS chips, the possibilities are truly endless today.  So when faced with a challenge of physically being located in the same place to conduct a panel for 200 attendees, why wouldn't a bunch of TechSavvy people dream to do what had not been done before.  Tele-moderate over SKYPE!
The TechSavvy Illinois team had a panel about how to motivate girls in STEM and keep them engaged to feed their interest.  Topics included examples to share with the audience on career paths, how diverse careers can be in STEM and how to get your foot in the door for internships and future experience during early years.  Organizations, conferences and resources for STEM events, college programs for young students and finances and websites to help feed their interests.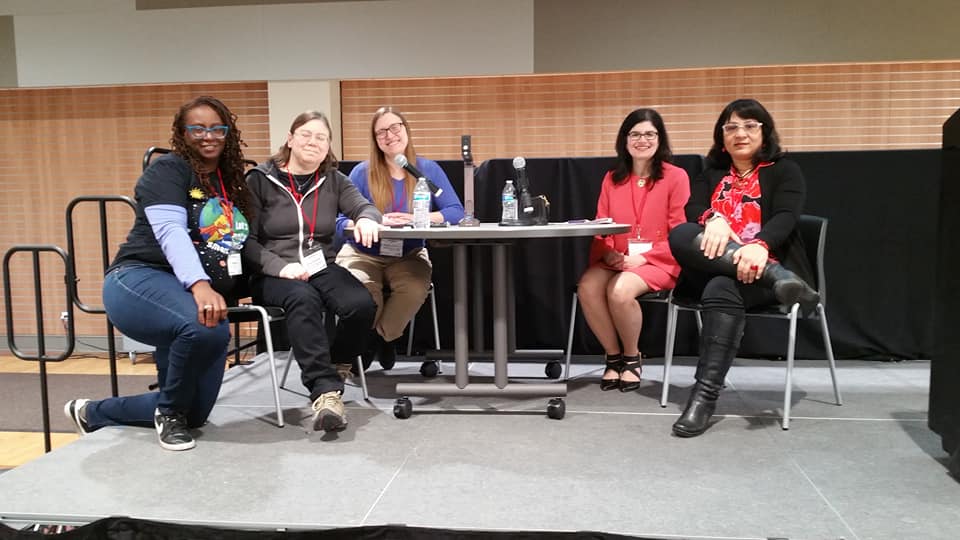 The attendees and Mary-Rita Moore, President of Triton college were delighted at the new twist in 2018.  Other panelists, Dana Dominiak, President of Webfoot Technologies thought it was a great idea, after all her company has written and released some of the top video games on the market, most recently Legend of Korra, Dragon Ball Z.  Sangita Kasturi has herself conducted TEDtalks and Melanie Pivarski, Associate Professor of Math at Roosevelt University both welcomed this new way of conducting a panel across geographies.
From Left to Right:
Andrea Blaylock, Engineering Professor – Dana Dominiak, President, Webfoot Technologies – Melanie Pivarski, Associate Professor of Math, Roosevelt University – Mary-Rita Moore, President, Triton College – Sangita Kasturi, Founder, Action Inclusion